MH model single beam gantry crane(box frame gantry crane) is matched with CD1 or MD1 model wire rope type monorail electric hoist, it is a kind of track travelling mid-duty type gantry crane, the main beam and legs are manufactured by plate steel, the frame is box frame, the capacity are from 3t to 32t, the span from 7.5m to 35m, the working temperature within -20--+42 centigrade, the duty class is A3~A4.
This single beam gantry crane is commonly used gantry crane, it is using in outside warehouse for loading/unloading and lifting material. The control model are ground control and cabin control for choice.

Video shows of box frame electric hoist single girder gantry crane.

The frame of MH model box frame single beam gantry crane: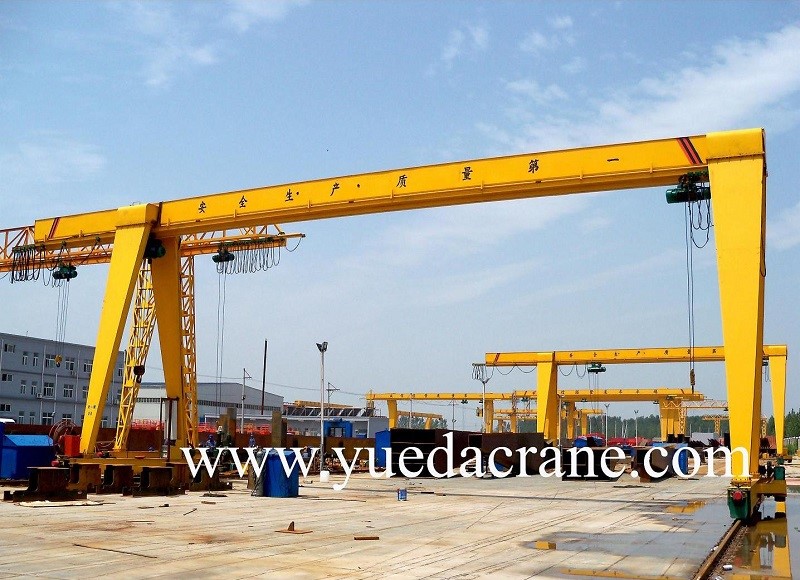 The drawing of MH model box frame single beam gantry crane: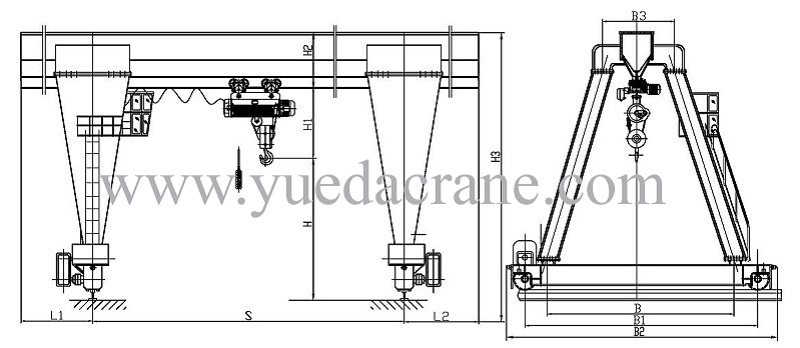 The general technical details of this gantry crane:
The general details of single girder gantry crane

Span(rail to rail center)

7.5m~35m or others

Cantilevers

According to your demand(less than 1/3 of span)

Lifting height

6m, 9m, 12m or other height

Capacity

3t, 5t

10t

15t, 16t

20t, 25t

30t, 32t

Lifting speed(m/min)

8, 8/0.8

7/0.7

3.5,

3.5/0.35

4, 4/0.4

3, 3/0.3

Cross travelling speed(m/min)

10 or 20

10 or 20

10 or 20

10 or 20

10 or 20

Long travelling speed(m/min)

20, 30

20, 30

20, 30

20, 30

20, 30

Duty Class

A3/A4

Power source

380V, 50HZ, 3 phase (or other standard)

Working temperature

-20~42℃

Control model

Pendant pushbutton control, cabin control or remote control
If you need this type single beam gantry crane, please tell us below details:
1. The lifting capacity that you need?(ton)
2. The span that you need?(The distance of rail to rail center)
3. The cantilever length at two beam ends?(m)
4. The Max. lifting height from ground to hook center?(m)
5. The power source standard?(Voltage= V, 50/60Hz, 3phase)
Please send your requirements to Email: info@yuedacrane.com