LB model single beam explosion proof overhead crane is developed from LD model overhead crane, it is a light-duty type overhead crane and used in the environment that full in inflammable gass, it used together with HB(BCD), HBS(BMD) model explosion proof electric hoist.

The lifting capacity from 1t to 20t, the span from 7.5m to 31.5m, the explosion proof class are Ex dIIBT4 and Ex dIICT4, the working temperature is -25℃~+40℃.
The control models are pendant pushbutton control, wireless remote control for choice.


The frame of single beam explosion proof overhead crane: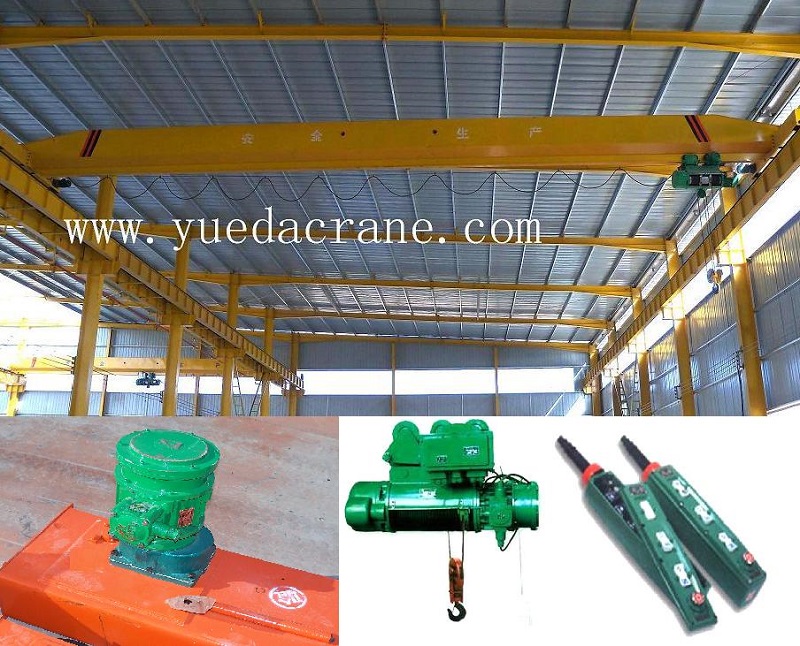 The drawing of this type explosion proof overhead crane: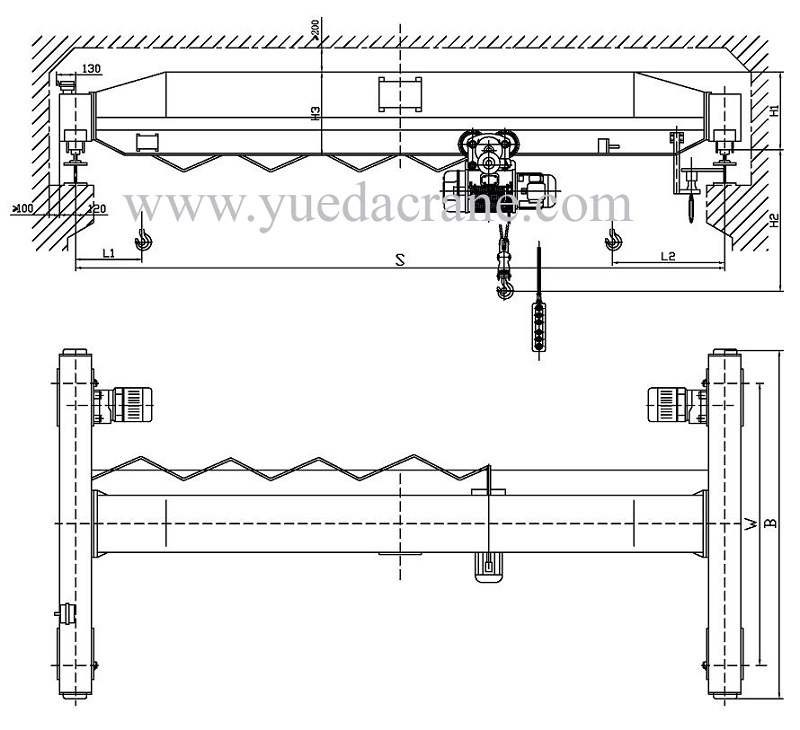 The technical table of this overhead crane:
Capacity (t)

1, 2, 3, 5, 10(8)

16, 20

Span (m)

7.5~31.5

Crane

travelling

mechanism

Travelling speed (m/min)

10

20

10

20

Motor

Power

2x0.8kw

2x1.5kw

Turning speed

(r/min)

1380

1380

Lifting mechanism (electric hoist)

& Cross

travelling

mechanism

Hoist model

BCD/BMD

BCD/BMD

Lifting speed (m/min)

8, 8/0.8; 7, 7/0.7

3.5, 3.5/0.35

Lifting height (m)

6, 9, 12, 18, 24, 30

9, 12, 18, 24, 30

Travelling speed

(m/min)

10, 20

10, 20

Motor

Cone Squirrel-cage

Cone Squirrel-cage

Duty Class

A3

Power source

380V 50HZ 3 phase

Wheel diameter

φ270mm

φ370mm, φ400mm

Width of rail top

37~70mm

37~70mm
If you need this type single beam explosion proof overhead crane, please tell us below details:
1. The lifting capacity that you need?(ton)
2. The span that you need?(The distance of wheel to wheel center)
3. The Max. lifting height from ground to hook center?(m)
4. The power source standard?(Voltage= V, 50/60Hz, 3phase)
5. The explosion proof grade?(Ex dIIBT4 or Ex dIICT4)